What kind of cuck gets fired from a four-year contract after just one year?
Answer: Steve Bannon.
Bannon is out. How history will judge Steve is anyone's guess. Though, if I you were to put a gun to my head, I'd say we could probably glean some clues from how history has judged such wonderful Americans as Nathan Bedford Forrest and Roger Taney. But we'll leave that for a another day.
For now, I think it's only fair that we celebrate and honor Steve, in animated GIF form, for all the hard work he put in over these last seven months.  You may be thinking he doesn't deserve honor, and you're probably right. But, well, I pay money for hosting on this site every month, so I gotta put something up on it, don't I? Of course I do.
So without any further delay, I present to you know, my animated GIF tribute to Steve Bannon, former White House Chief Strategist and Catcher's Mitt Analogue.
First, we see Steve as he finds out he was fired.
Here of course is the moment most Americans found out Bannon was going to have a job in the White House.
https://giphy.com/gifs/bad-harrison-ford-indiana-jones-k5DmEDkonEpVu
And now we see that Bannon didn't exit the White House through the front door.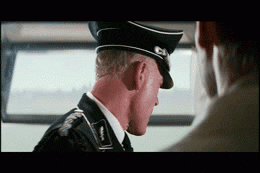 Here's where Bannon found out when he decided to work for Trump he had chosen poorly.
And here's that time that someone told Steve where a Robert E. Lee statue belongs.
https://giphy.com/gifs/fanart-fan-art-it-belongs-in-a-museum-Qovh4AFnGLwVG




Steve Bannon says hello on his first day on the job.
https://giphy.com/gifs/harrison-ford-indiana-jones-raiders-of-the-lost-ark-5el2S0rQebWlW
And finally, Bannon is safely secured along with the rest of the Breitbart editorial staff, in a nice, safe space.
https://giphy.com/gifs/jones-ravenwood-morelikewinterhell-HrgPaAwfynwkw
Okay. You caught me. I just wanted to post a lot of Indiana Jones GIFs today, and as luck would have it, a Nazi fuck got fired today. So you know, two birds, one stone, blah blah blah. Fuck Steve Bannon, is what I'm saying here.
Now, let's see if we can get that lantern jawed bigot of a Vice President to quit next, shall we?